Bill Curtis-Davidson is a Senior Consultant – Emerging Tech Accessibility at Wheelhouse Group, supporting PEAT's Future of Work Initiative. In this role, he works to advance accessible emerging technologies to increase the employment of underrepresented populations, including people with disabilities.
How did you get your start in accessibility? 
I began my accessibility journey around 1996 during my graduate studies and research assistantships in what is now the Georgia Tech Digital Media master's degree program. After graduating with my M.S. degree, I took a job as a research scientist in assistive technology in what is now the Center for Inclusive Design & Innovation. In that job, I contributed to a number of sponsored assistive technology research projects supported by state and federal government entities and taught interactive design as an adjunct instructor in the Georgia Tech College of Design. I was honored to represent Georgia Tech as an alternative member of the Electronic & Information Technology Accessibility Advisory Committee (EITAAC), the committee that was convened by the U.S. Access Board to help develop recommendations on what would become the initial Section 508 standards (2000).  
Since that foundational phase of my accessibility career, I've had the good fortune to collaborate and build many long-term relationships with colleagues who serve in disability advocacy, research, assistive technology development, accessibility consulting, government, and private sector roles. I spent 11 of my 15 years at IBM focused on advancing accessibility, where I helped develop IBM's accessibility services offerings, consulted on accessible product design, developed research technology, contributed to accessibility standards development, and spoke at a huge variety of public events. I am particularly honored to have played a key role in advancements such as accessible self-service airline kiosks (now commonplace with an update to the Air Carrier Access Act) and data-enabled inclusive transportation, travel, and tourism. After IBM, I helped lead the delivery of strategic accessibility services at Level Access, which gave me even more opportunities to help dozens of clients in multiple industries to develop their accessibility programs and design inclusive products.
In your work as an accessibility program leader, you have championed the innovation of new XR (VR/AR/Mixed Reality) platforms and products. What interests you about XR, and how do you think it can enhance the world of digital accessibility?
XR technologies will offer an array of possibilities if they are designed to be accessible. For example, colleagues with limited mobility could use an XR application to join their team in a real-time, virtual meeting represented by a digital avatar or a volumetric video. In that same application, a deaf colleague might activate spatialized, real-time captions and text chat to participate in conversations during virtual meetings. 
With those possibilities in mind, I became involved in emerging technologies that include new combinations of hardware and software, including media devices, IoT devices, and XR (an umbrella term for "Extended Reality" including virtual reality, augmented reality, and mixed reality). In 2019, I took the role of Senior Manager of Accessibility at Magic Leap, where I led the development and implementation of Magic Leap's first company-wide Accessibility Program. In that role, I spearheaded a number of product and content accessibility efforts, founded and chaired the company's first Employee Resource Group for people with disabilities and their allies, and worked to internally scale role-based training and other enablement resources. 
During the same time, I became an active leader in the XR Access Community, a community with more than 140 cross-sector participants committed to addressing the unique accessibility challenges posed by XR and advancing a shared vision for a future where new technology is born accessible for people with disabilities. In July 2020, I joined the Wheelhouse Group as a Senior Consultant – Emerging Tech Accessibility, supporting PEAT's Future of Work Initiative. In this role, I continue to actively support the XR Access Community, as well as other emerging tech accessibility efforts including Artificial Intelligence (AI) with the goal of increasing the employment opportunities of people with disabilities. 
Designing successful XR platforms, products and content requires thoughtful consideration to design for human diversity. I truly feel that organizations and developers who adopt inclusive design and who directly engage people with disabilities in the course of design can design better, more successful products. However, there is more at stake than just better product design. As emerging workplace technology expands in the workplace, it stands to impact hiring, job training, professional development, and collaboration. Inclusive design and accessibility will be viewed as must-haves in order for XR technologies to reach mainstream adoption. This is critically important for employees with disabilities, whose rate of unemployment in 2019 was more than double that of people without disabilities, according to the U.S. Bureau of Labor Statistics. When inclusively-designed, XR technologies hold enormous potential for people with disabilities and can help make every workplace more inclusive.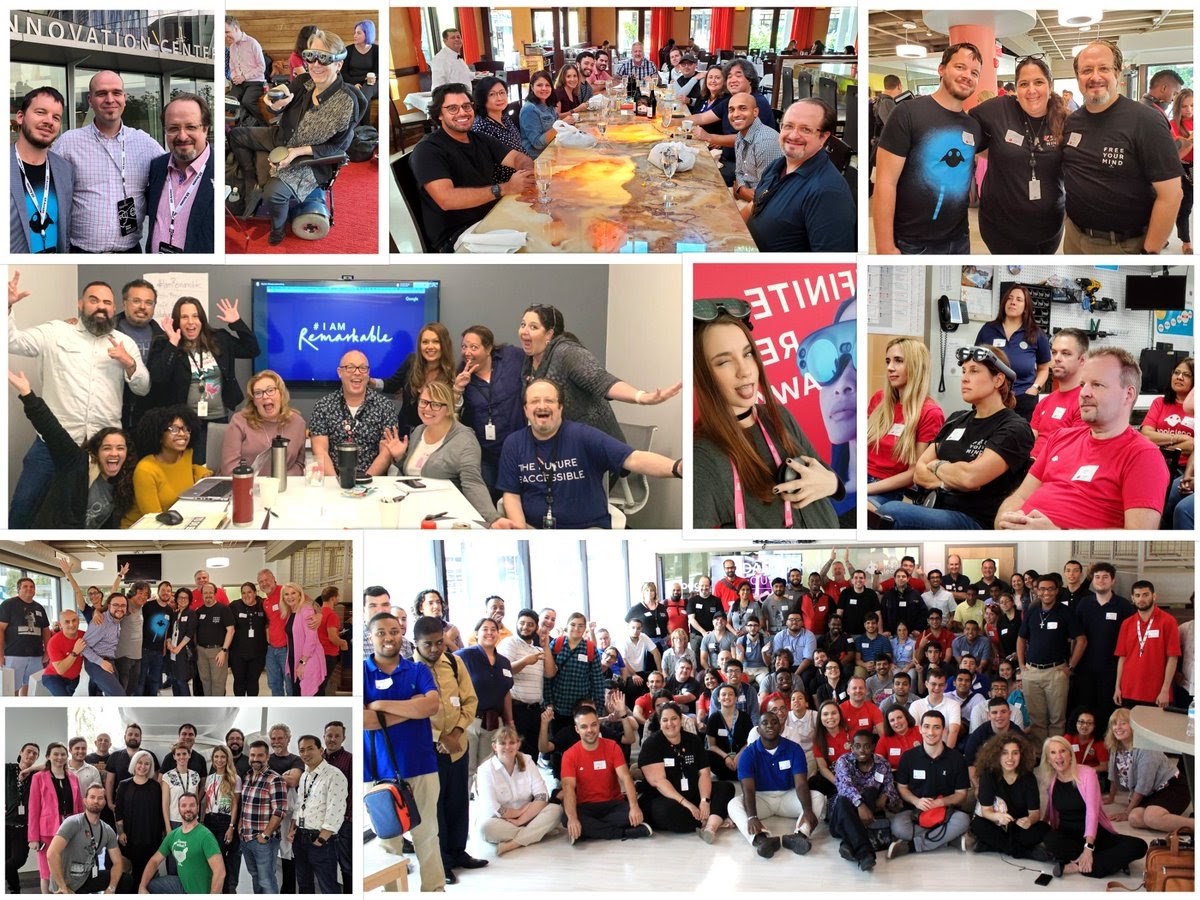 What is an accessibility barrier you would like to see solved?  
I would really like to see inclusive design become a regular part of formal design, user experience (UX), human-computer interaction, and computer science education programs. I would also like to see inclusive design activities or introductions in emerging technology industry workshops, boot camps, and hack-a-thons. Doing both of these things will require us to evolve accessibility design practices as well as incorporate education on design fairness, equitable use, and authentic inclusion of people with disabilities so that emerging technologies can be used by the broadest range of people.
When inclusively-designed, XR technologies hold enormous potential for people with disabilities and can help make every workplace more inclusive.